When i get older losing my hair,
Many years from now.
Will you still be sending me a valentine
Birthday greetings bottle of wine.
If i'd been out till quarter to three
Would you lock the door,
Will you still need me, will you still feed me,
When i'm sixty-four
Why the Beatles song about age???  Well, I have some good news, but it's sad in its own way.  Brendol has been having a hard week being very tired and not wanting to eat as willingly (but with gusto if hand fed).  She's had me very worried and so I have taken her to see all the vets and get all sorts of tests done.  The urinalysis came back just fine last week and the CBC came back fine from Saturday.  Only thing noted during her visits was a slight heart murmur that we were instructed to just have checked out the next time we do a chest x-rays.   That is all wonderful news, so the kidneys and liver are not indicating that there are any problems in functioning.  The rimadyl that we were given seemed to help a little bit, so possibly my Brendol is just having some aches and pains of being an older girl.
That's the sad part.  I don't want her to be old.  Because if she is old, our days are numbered.  I don't want her to have cancer.  Because with cancer, our days are numbered.  I know, all of our days are numbered.  Just seeing her so tired is painful for me because I know we can never go back.  Last week, standing at the veterinary office checking out and paying the bill, she just stood there so nice waiting to go.  I remembered the days (not so long ago) that she would have been pulling at her leash and bouncing around and I would have been frustrated with her for not sitting still so I could take care of everything.   And now I long for that bubbly bouncy exuberant girl.
My friend, Darline, came to visit on Friday and Brendol got her cuddle time with Aunt Darline.  Darline won't like this picture, but this just shows how sweet my baby girl is.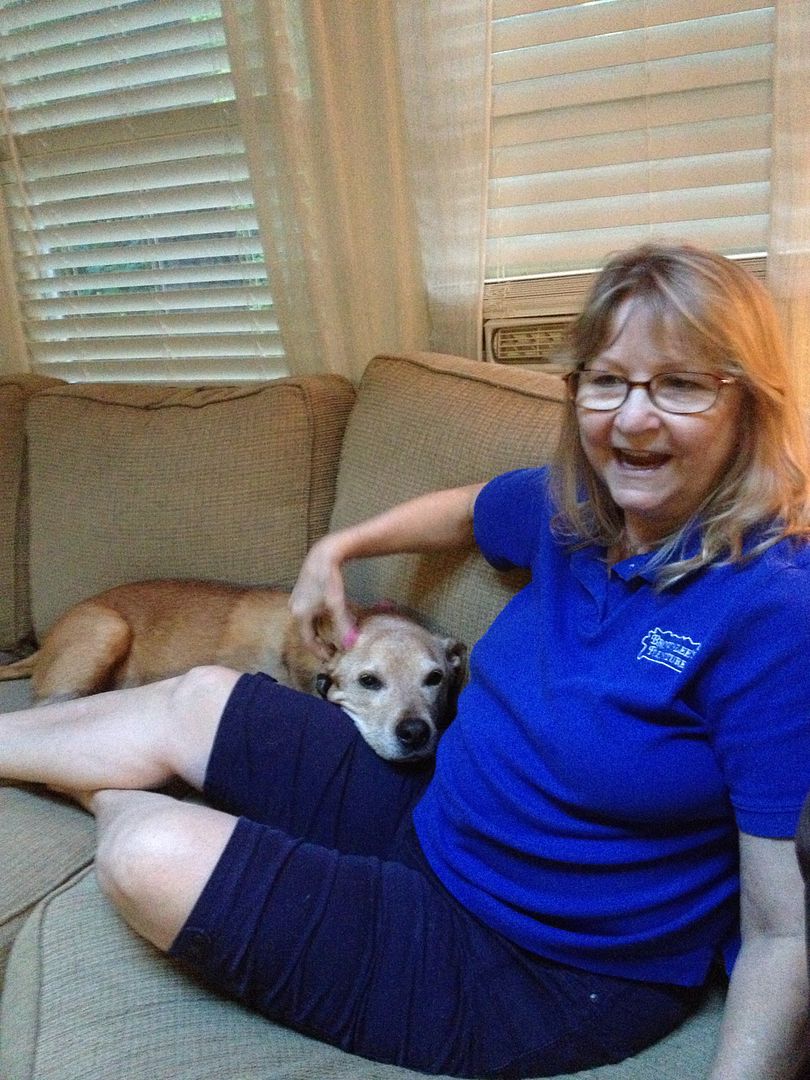 So, with all that said… we will be ok.  Momma just has to get used to our new normal.  Take each day as it comes.  Wag our tails with whatever gusto we have available.
Tear alert at this point forward… found a sweet poem about our aging pups.
TAKE JOY IN…..OLD DOGS
Their joys are simple. A soft bed. A scrap fallen from the table that the younger dogs missed. The memory of a treed squirrel. A stormless night.
White whiskered faces and legs crooked as question marks.
Old Dogs…their sweet Buddha bellies hang over crossed legs as they fall asleep in a coveted patch of sun. Dreaming of out-racing their shadows down long, shady lanes.
Once they danced by your side. The very definition of joy unleashed. A perfect poem caught in shining eyes and wagging tails. They have followed you faithfully for years. And would plunge into fires, untamed wildernesses, raging waters if you asked.
Now, they struggle to catch up. Their pace slow but their hearts still valiant.
Their cloudy eyes are starting to dim and go distant, tuning in to some invisible world. Just beyond your reach.
Don't go you say, as you scratch the tender part between their ears. Stay longer. I can't imagine a world without your fur pressed close to my cheek. There are still so many roads we haven't explored.
And they look up at you with a wisdom that just slays you.
Their backs are bent, not from the weight of years, but from the invisible wings they are growing
That will soon take them to a place where once more they are warriors of speed
Drunk with the sights and scents of a thousand meadows.
Able to leap high enough to touch the wing of the tiniest butterfly.
A place where they will now wait for you to catch up.
– Donna Swajeski